Shaun Borstrock, Associate Dean – Business Innovation and Projects launched the second Spaces of Luxury competition following on from the successful collaboration with Prada and Yale School of Management last year. This project is at its heart design led and explores the notion of luxury within a confined, moving space – a private jet. Students were required to devise a concept for an interior of an Airbus CJ319 through an understanding of luxury, technology, materials and the limitations of space 'in the skies' to spectacular effect.
Airbus Corporate Jets (ACJ) offers the most modern and comprehensive corporate jet family in the world, giving customers the greatest choice of unique, customizable and spacious cabins allowing them to select the comfort they want in the size they need – offering them a unique flying experience. Because every detail matters, ACJ (Airbus Corporate Jets) lets its customers fully customize the aircraft's interiors and build their perfect home in the sky: make your choice among pre-defined cabin concepts or customize your Airbus corporate jet to your exact needs.
https://www.acj.airbus.com/en/exclusive-products/creative-design.html
The idea of luxury within this context is pursued through an intrinsic understanding of the diversity and demands of different types of customers, their individual needs and how design will make a positive impact on their flying experience.
The challenge was to provide solutions that address the need to be both innovative and creative, creating a luxurious environment where detail is of the utmost importance no matter how big, small or intricate. 15 students were selected by a panel of experts including Eric Jullien-David, Deputy VP Commercial, Airbus Corporate Jets, Sylvain Mariat, Head of Creative Design, Airbus Corporate Jets and staff from the School of Creative Arts to develop their design concepts for Airbus. The students had to opportunity to visit the Airbus factory in Toulouse, see the production line of an Airbus A320 and A350 in action and experience a private jet and full scale models of all Airbus commercial aircraft.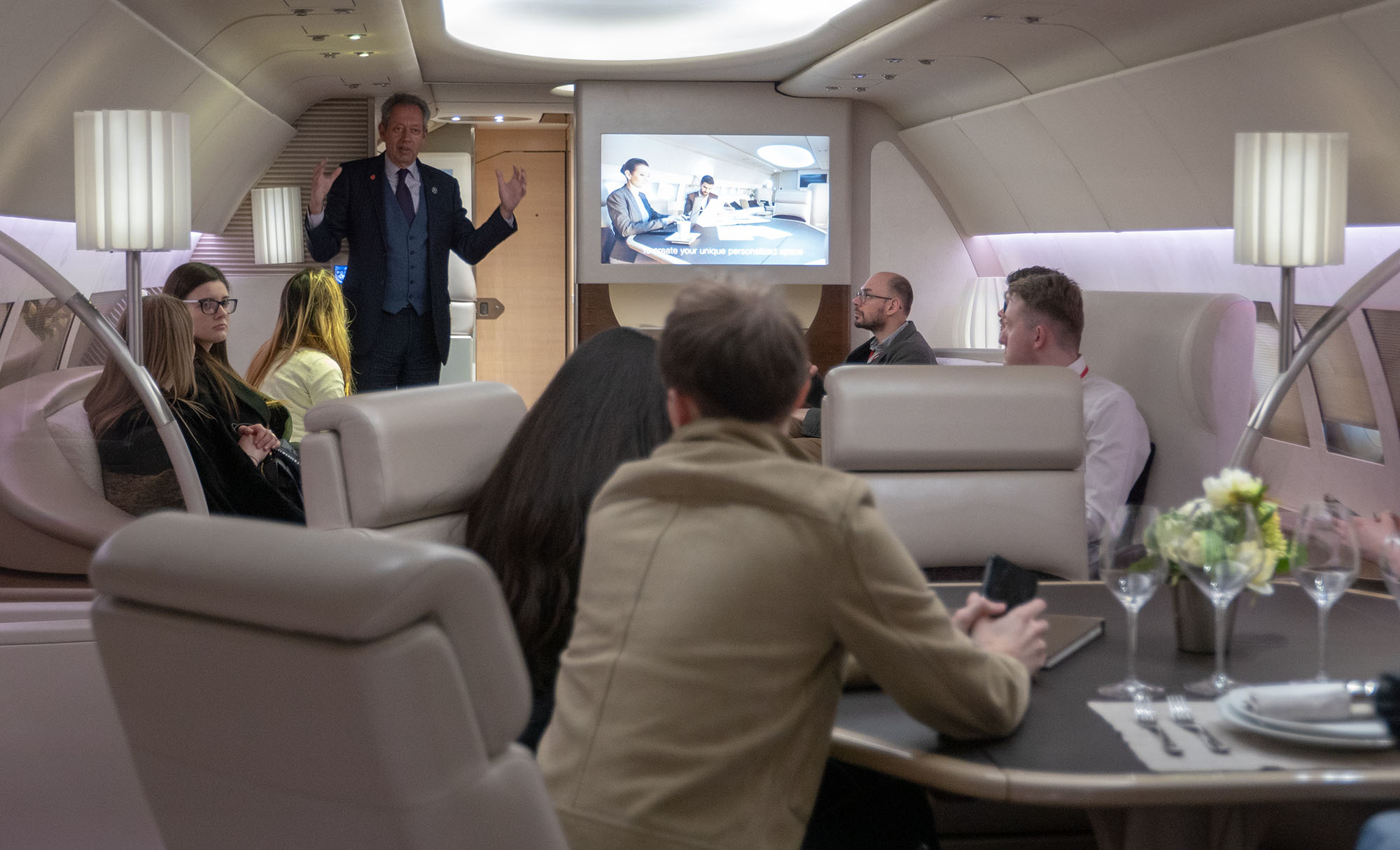 Silvio Carta, Head of Design says "This project has been a great opportunity for all the students to take up the challenge set out by a world-leading company like Airbus. Students and colleagues involved in this initiative had the opportunity to fly to Toulouse to see the assembly line of some of the commercial models and some mock-ups of the corporate jets. We talked with the chief designer and the director of Marketing. Projects like this offer students the unique chance to work with global companies on very high-standard projects. A great experience for everybody!"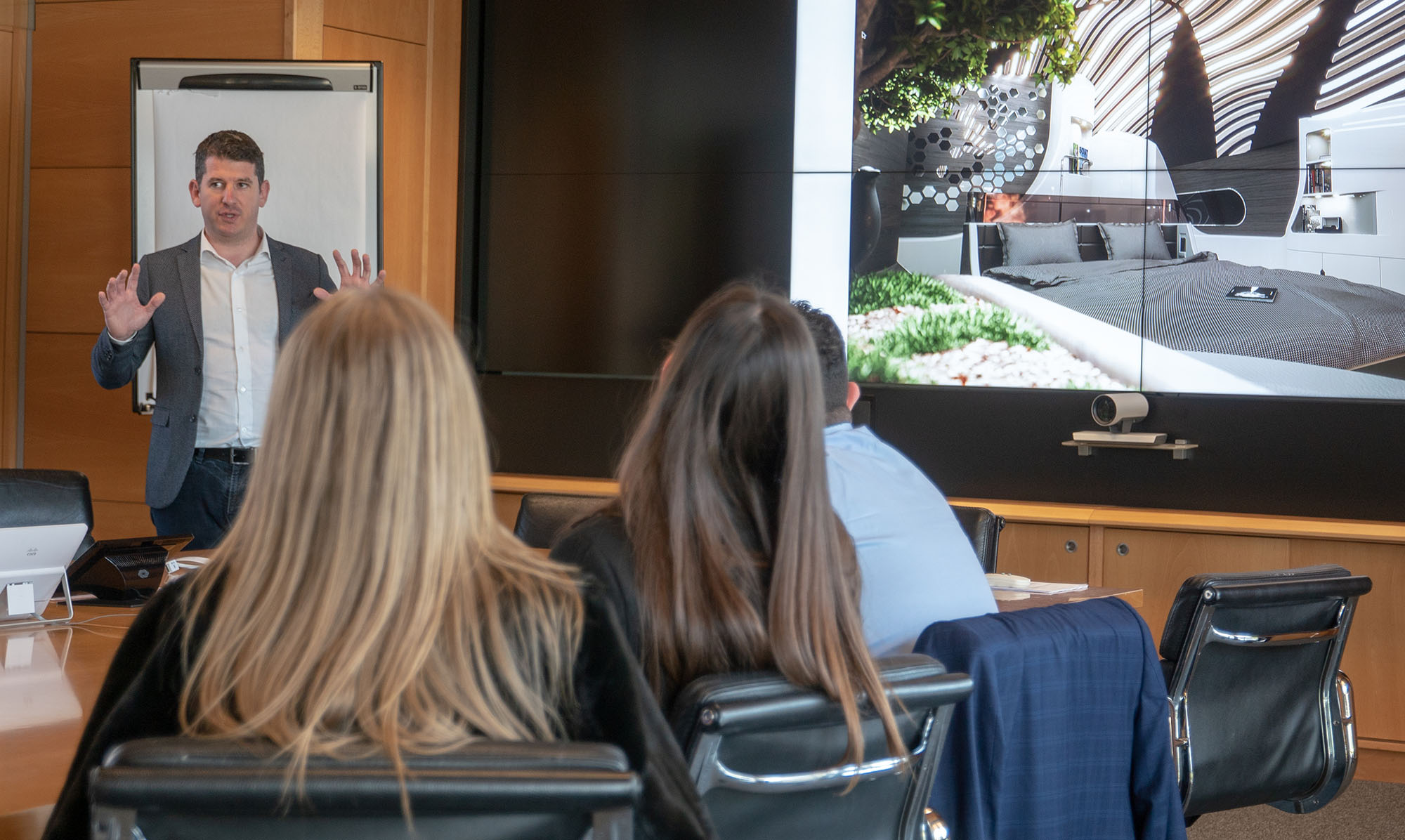 Interior Architecture and Design student, Jennifer Raderschadt says "the visit to the Airbus Factory has shown me how versatile a career in interior architecture can be and I am so glad the university provided this opportunity for us".
Rojin Ghajar – MA Product Design:"Visiting Airbus really helped me to have a better understanding of the space and luxury needs for our clients. I felt honoured to have this opportunity to show my skills as a designer and thought me more than I expected to learn on that day, definitely looking forward to do more on this amazing project."
Sanjivni Gupta – MA Interior Architecture and Design:"The trip to Airbus was an experience of a lifetime. It was really great to realise the scale of the plane and know how deeply and minutely the spaces can be utilised."
Camila Fernholz – Interior Architecture and Design: "It felt like one of the most fascinating playgrounds for interior designers! Shows you that when it comes to interior designing, the sky is the limit!"
Amanda Levitchi – Interior Architecture and Design: "I believe visiting Airbus was exciting and the trip helped me gain a deeper understanding of what goes on in the process of designing the interior of a plane and how the airplane is put together. Overall, I really enjoyed the visit and I would love to do it again."
Petra Razoare – Interior Architecture and Design: "My experience at the Airbus factory was an eye opener into the actual manufacturing world of an aircraft. The overall environment was breath-taking as it showed the amount of work and dedication that one airplane needs."